Kubuntu 10.04 LTS, Here for the Long Term
The Kubuntu team is proud to introduce our latest release: 10.04 LTS, the Lucid Lynx!
This is our first Long Term Support release featuring the KDE Plasma Desktop.
Our selection of tools and applications will provide you with all that you need for most of your tasks, with many more available just a few clicks away. Whether browsing the web, playing your music, composing an email or connecting with your friends on social networks, Kubuntu 10.04 LTS brings you a stable, innovative and attractive platform for all your desktop needs!
Where to Get 10.04 LTS
See Graphical Install for help on installing and Installation From USB Stick for help on installing Kubuntu Netbook Remix.
Please note: upgrades from Kubuntu 8.04 (Hardy Heron) are not supported, a fresh install is needed.
New in Kubuntu 10.04
New Branding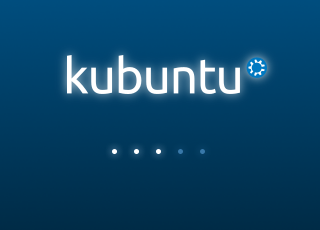 Along with the rest of Ubuntu we have been updating our branding. The new logo and icon are now incorporated into our new Plymouth splash screen to freshen up our look.
KDE Plasma Desktop 4.4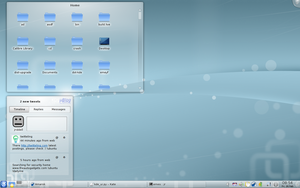 KDE Software Compilation 4.4 provides the latest version of the popular Plasma Desktop.
The improved System Tray now can include various widgets, such as the improved Device Notifier, Battery monitor and our Message Indicator.
Nepomuk Semantic Search has matured greatly, you can now search through your files from Dolphin or browse the recently used timeline.
New features such as grouping windows into tabs have been added, while many smaller tweaks and changes provide for a more stable experience befitting 10.04's LTS status
Official Kubuntu Netbook Remix release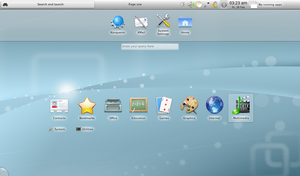 The Kubuntu Netbook Remix has its first official release with Kubuntu 10.04. This addition brings a new way of using your desktop, geared for this popular form factor.
Amarok 2.3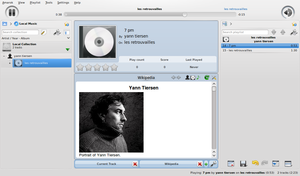 Amarok 2.3 features many bugfixes, enhancements, and visual changes, such as the new main toolbar and better podcast support.
Installer Slideshow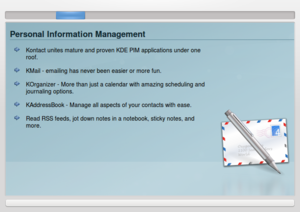 Sit back and relax while installing Kubuntu and watch the lovely slideshow showcasing KDE applications included in the default installation. Or just use them, since it's a Live CD 😉
Touchpad Configuration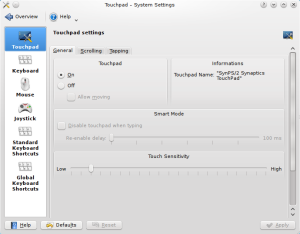 The new touchpad configuration section of System Settings allows you to fine-tune how your laptop's touchpad behaves.
System Notification Polish
The notifications for available codecs, required restarts and upgrade information have been further integrated into the KDE notification system, giving these notifications a seamless way to integrate with the rest of the notifications the Plasma desktop provides. They have also been optimized, taking up much less memory than before.
KDE Integration for Firefox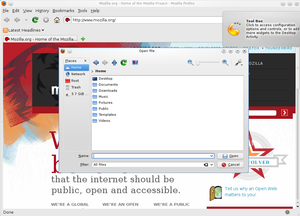 Firefox now integrates better with KDE, providing native KDE file dialogs as well as respecting your default choices for opening files, as set in KDE. Our Kubuntu Firefox Installer makes sure the necessary packages are installed, if you have installed Firefox manually you will need to install kmozillahelper for the integration.
GNOME Application System Tray Integration
Work has gone in to integrating GNOME tray icons into the Plasma desktop, so that GNOME apps supporting the integration will share a consistent appearance with the rest of your KDE apps.
Known Issues
Bug:563263 "'No resource agents found' error when starting Kontact/Akonadi for the first time." Restart Kontact to work around.
Bug:551290 "Plymouth theme ugly on binary nvidia driver." Fix is in lucid-proposed for testing and will go into lucid-updates soon.
Bug:557434 "Ubiquity GUI disappears when 'Skip' is pressed." The install will still complete without GUI.
See the Ubuntu Release Notes for issues which affect Ubuntu generally.
Feedback
We want to hear what you think about this amazing new release. We would like to know what works, as well as what does not. No matter the feedback, as long as it is in line with the Ubuntu Code of Conduct we would like to hear it.
To submit your feedback, please use the Kubuntu Feedback Plasma Widget. You can get to this by right-clicking on your desktop somewhere, selecting "Add Widgets", and search for "feedback".

Double click on the icon to launch it and answer some brief questions as well as add your comments.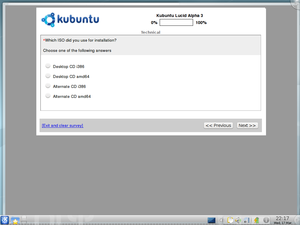 You can also leave a comment on our 10.04 LTS feedback page.