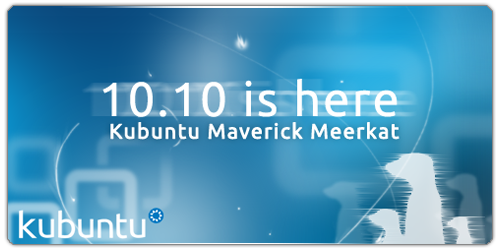 The Kubuntu team is proud to announce the release of 10.10, the latest version of our popular Linux distribution. Kubuntu is one of the Ubuntu distributions and is based on KDE Software.
With the combination of its Ubuntu backbone, the amazing KDE Platform and Applications, plus a few unique extras, 10.10 aims to provide the best fusion of stability, beauty and up-to-date software.
Whether working, browsing the web, playing your music, composing an email or connecting with your friends on social networks, Kubuntu 10.10 brings you an innovative and attractive platform for all your desktop needs!
You can also hear about the Kubuntu 10.10 release on the KDE Masters of the Universe podcast.
Read on for highlights and information on how to get Kubuntu 10.10.
Getting Kubuntu
10.10 images can be downloaded from the Kubuntu download page.
Upgrades can be made from Kubuntu 10.04 LTS, see the 10.04 LTS Upgrade instructions.
What's New
Combined Desktop/Netbook ISO Image
For 10.10, Kubuntu has merged the Desktop and Netbook images into one featuring both the Plasma Desktop and Plasma Netbook workspaces. The appropriate workspace for your machine will be launched at login; you can also change the workspace in System Settings.
| | |
| --- | --- |
| | |
| Plasma Desktop | Plasma Netbook |
Ubiquity Installer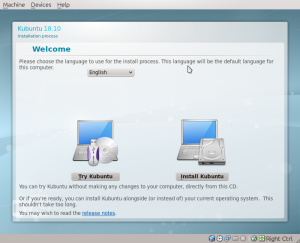 Our installer has had a few changes. On boot Ubiquity will offer you the option of running the live system or installing directly.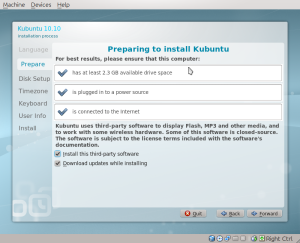 Ubiquity now lets you download restricted packages such as MP3 playing during the install so you do not have to do them later (of course you will need internet access for this).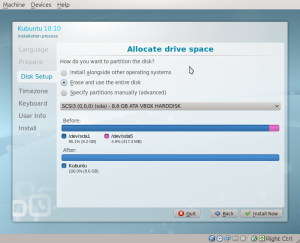 The installation process starts right after the disk setup page, before you have completed the remaining setup tasks, so it'll be ready to use sooner.
Improved KPackageKit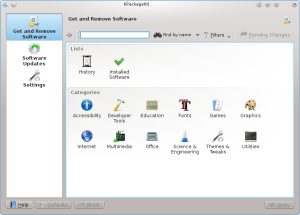 KPackageKit for Kubuntu now has an application-focused view as part of it's updated user interface. You now can find individual packages by searching by name. The backend has been changed to the much faster aptcc to ensure your installs are as quick as possible.




New features such as application screenshots and update changelogs are just a few of the enhancements KPackageKit provides to give Kubuntu users a better, polished and stable package management tool.
New Web Browser – Rekonq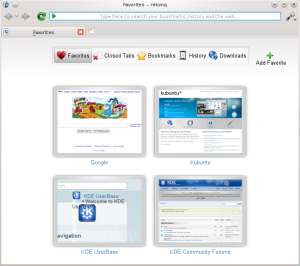 Rekonq is now the web browser for Kubuntu. It is built on both KDE Platform and Qt WebKit technologies and sports a modern, clean interface that maximizes space for web browsing and does not get in your way. Both Konqueror and the Kubuntu Firefox Installer are still available for users who prefer these options
New Ubuntu Font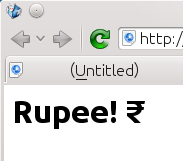 The default font on the install media is now the Ubuntu font. It features a distinctive design which remains undistracting. It makes Kubuntu the first distro to ship with the new Indian Rupee symbol.
Global Menu in Plasma Netbook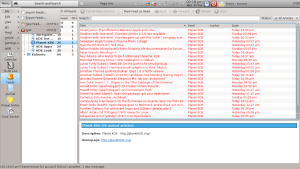 Plasma Netbook now sports the Global Menu by default. This innovation helps conserve vertical space on small netbook screens.
QApt Batch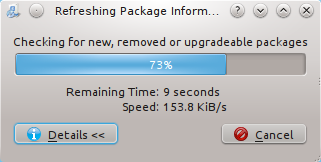 QApt Batch now replaces install-package as the update/batch-installer utility. QApt Batch features improved security features through PolicyKit support, improved robustness and usability enhancements.
Message Indicator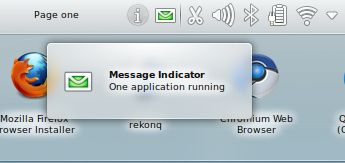 Kubuntu's Message Indicator Plasma widget is now on by default for IRC and Instant Messaging applications. You can also shift-click on the tray icon to open the application with the most recent event.
Improved Bluetooth Support with BlueDevil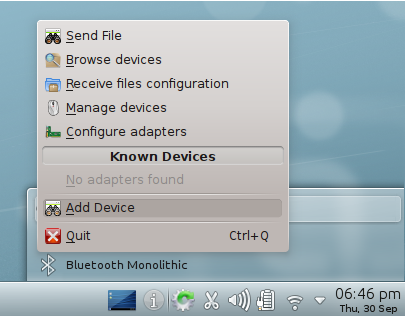 BlueDevil has become the default Bluetooth programme to make file transfer and other Bluetooth operations much more reliable.
PulseAudio
Kubuntu now uses the PulseAudio sound server by default. Building on the efforts of Ubuntu over the last several release cycles, this system is now used by Kubuntu to give users enhanced configurability, flexibility and ease of use. System Settings and KMix have been updated to enhance Pulseaudio control integration.
Kubuntu Mobile Technology Preview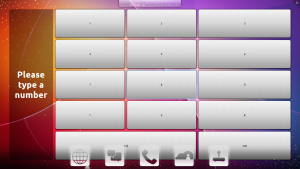 A new flavour for Kubuntu. Kubuntu Mobile uses the Plasma Mobile workspace to create an operating system suitable for use on smart phones such as Nokia N900s. Available in Technology Preview for i386 and ARM platforms.
Known Issues
For known problems see the Ubuntu release notes.
Join Kubuntu
Kubuntu is a community project, see our contribute to Kubuntu page for how to get involved.
Feedback
We want to hear what you think about Kubuntu 10.10. We want to know if it rocks, if it is just OK, or it is flat out wrong. No matter the feedback, as long as it is in line with the Ubuntu Code of Conduct we would like to hear it.
Head on over to the Feedback wiki page and let us know!