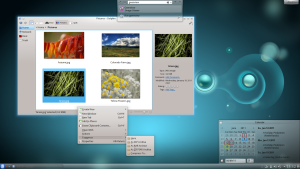 We're preparing to release Kubuntu 11.10, the Oneiric Ocelot, in October 2011. With this beta pre-release, you can see where we are with our bug fixing and polishing of the official release. Read here for feature highlights and documentation of known issues.
NOTE: This is an beta pre-release.
Kubuntu Pre-releases are NOT recommended for: regular users who are not aware of pre-release issues, anyone who needs a stable system, anyone uncomfortable running a possibly frequently broken system, or anyone in a production environment with data or workflows that need to be reliable
Kubuntu this release IS recommended for: regular users who want to help us test by finding, reporting, and/or fixing bugs and Kubuntu developers.