Welcome to Kubuntu 13.04, a brand new version with the latest KDE software to enjoy.
Getting Kubuntu 13.04
Download 13.04 now or Upgrade from 12.10.
For full details of software included see Kubuntu on Distrowatch
13.04 Highlights
Software Updates
KDE Plasma and
Applications 4.10
The current update release of KDE's Plasma Workspaces and Applications 4.10 adds a new screen locker, Qt Quick notifications, colour correction in Gwenview and faster indexing in the semantic desktop.
Muon Suite 2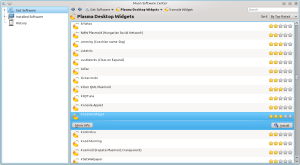 Included is is the new version of the Muon Suite for app install and upgrades. It introduces support for installing Plasma widgets found in KDE's KNewStuff framework from within Software Center and Muon Discover.
Rekonq 2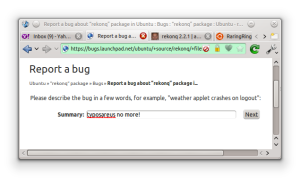 Version 2 of our web browser adds a bunch of new features
inline spellcheck
new incognito mode
new startup option: incognito URL
new startup option: webapp URL
pinning tabs
improved error page
simplified rekonq pages
Homerun
A full screen alternative to the Kickoff application menu, add it to your panel to give it a try.
Screen Management
A new screen management tools makes it easy to attach and unattach extra monitors.
Oxygen Sans Font
Available on the default install is Oxygen Sans, a new font from KDE's artists.
Krita
Our painting application Krita now uses a nifty new calculations library Vc making it twice as fast as before. It also sports an artsy new black theme.
Installer
Our installer sports a professional new look
LibreOffice 4
LibreOffice has been upgraded to Version 4.0.1.2.
MTP Devices
Access your digital music player and smartphone through MTP protocol.
Tomahawk
Available in the archives is Tomahawk, a new music player which makes it easy to share your music with your friends over IM.
Infrastructure
For full details of software included see Kubuntu on Distrowatch
Secure Boot
Kubuntu should now be able to support UEFI Secure Boot, a standard for controlling what software can be run on a computer. Supporting Secure Boot, a part of the Windows 8 certification requirements for client systems, ensures that Ubuntu will continue to provide an "it just works" experience on new hardware.
If you have hardware for this, we would appreciate your help in testing it out.
Known Problems
Information on installing Kubuntu 13.04 on PowerPC systems can be found here.
Feedback
We want to hear your opinions on this release.
You can give us feedback on the Kubuntu Google+ page. Your input is an invaluable resource, so do take the time to write down your thoughts and let us know what you think!