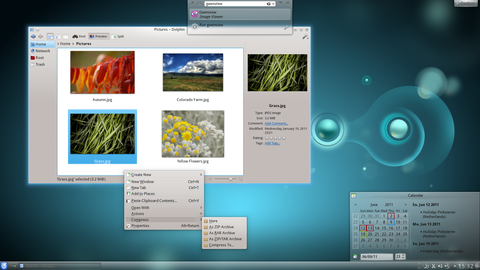 After a break to package KDE SC 4.7.0, the second alpha release of Kubuntu Oneiric has been released. It features the latest stable release of KDE's Plasma workspace and applications (4.7) and KDEPIM 4.7. It also features an updated Amarok and provides the Muon Software Center and Muon Package manager by default. More details may be found here.
Note: This is an alpha pre-release. Pre-release versions of Kubuntu are NOT encouraged for anyone needing a stable system or for anyone who is not comfortable running into occasional, even frequent, breakage. Pre-release versions ARE recommended for Kubuntu developers and those who want to help in testing, reporting, and fixing bugs. Please do not use this in a production environment with data or workflows that you cannot do without.
Update: The PowerPC Kubuntu Desktop image has been added to the released images for Kubuntu Oneiric Alpha 3. It has received limited testing, please see the known problems section of the release page for more details.