Adventurous users, testers and developers running Artful 17.10 or our development release Bionic 18.04 can now test the beta version of Plasma 5.12 LTS.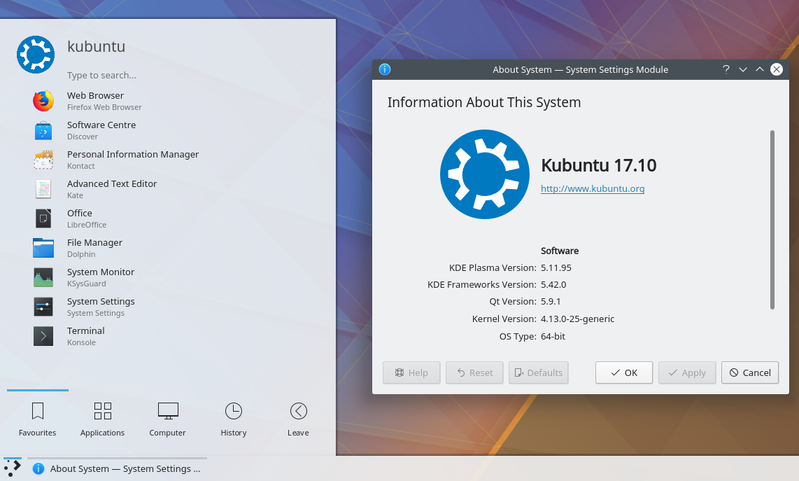 An upgrade to the required Frameworks 5.42 is also provided.
As with previous betas, this is experimental and is only suggested for people who are prepared for possible bugs and breakages.
In addition, please be prepared to use ppa-purge to revert changes, should the need arise at some point.
Read more about the beta release.
If you want to test then:
sudo add-apt-repository ppa:kubuntu-ppa/beta
and then update packages with
sudo apt update
sudo apt full-upgrade
A Wayland session can be made available at the SDDM login screen by installing the package plasma-workspace-wayland. Please note the information on Wayland sessions in the KDE announcement.
Note: Due to Launchpad builder downtime and maintenance due to Meltdown/Spectre fixes, limiting us to amd64/i386 architectures, these builds may be superseded with a rebuild once the builders are back to normal availability.
The primary purpose of this PPA is to assist testing for bugs and quality of the upcoming final Plasma 5.12 LTS release, due for release by KDE on 6th Febuary.
It is anticipated that Kubuntu Bionic Beaver 18.04 LTS will ship with Plasma 5.12.4, the latest point release of 5.12 LTS available at release date.
Bug reports on the beta itself should be reported to bugs.kde.org.
Packaging bugs can be reported as normal to: Kubuntu PPA bugs: https://bugs.launchpad.net/kubuntu-ppa
Should any issues occur, please provide feedback on our mailing lists [1] or IRC [2]
1. Kubuntu-devel mailing list: https://lists.ubuntu.com/mailman/listinfo/kubuntu-devel
2. Kubuntu IRC channels: #kubuntu & #kubuntu-devel on irc.freenode.net