Are you running the development release of Kubuntu Groovy Gorilla 20.10, or wanting to try the daily live ISO?
Plasma 5.19 has now landed in 20.10 and is available for testing. You can read about the new features and improvements in Plasma 5.19 in the official KDE release announcement.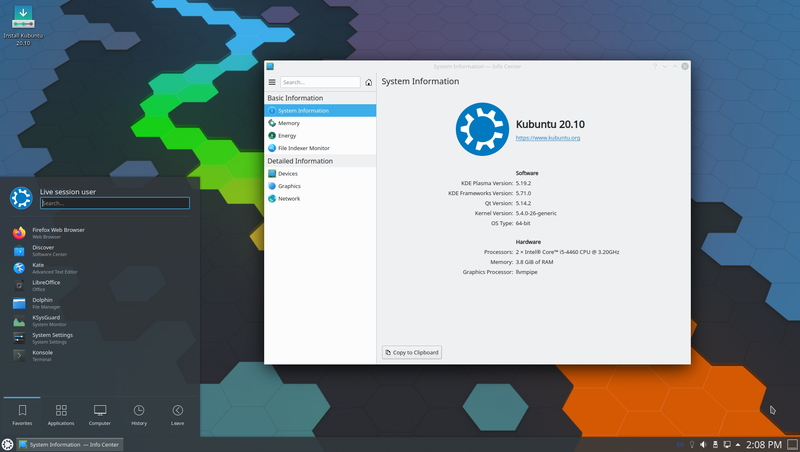 Kubuntu is part of the KDE community, so this testing will benefit both Kubuntu as well as upstream KDE Plasma software, which is used by many other distributions too.
The Kubuntu development release is not recommended for production systems. If you require a stable release, please see our LTS releases on our downloads page.
Getting the release:

If you are already running Kubuntu 20.10 development release, then you will receive (or have already received) Plasma 5.19 in new updates.

If you wish to test the live session via the daily ISO, or install the development release, the daily ISO can be obtained from this link.
Testing:
If you believe you might have found a packaging bug, you can use a launchpad.net to post testing feedback to the Kubuntu team as a bug, or;
If you believe you have found a bug in the underlying software, then bugs.kde.org is the best place to file your bug report.
[Test Case]
* General tests:
– Does plasma desktop start as normal with no apparent regressions over 5.18 or whatever version you are familiar with?
– General workflow – testers should carry out their normal tasks, using the plasma features they normally do, and test common subsystems such as audio, settings changes, compositing, desktop affects, suspend etc.
* Specific tests:
– Check the changelog in the KDEannouncement:
– Identify items with front/user facing changes capable of specific testing. e.g. "clock combobox instead of tri-state checkbox for 12/24 hour display."
– Test the 'fixed' functionality.
Testing is very important to the quality of the software Ubuntu and Kubuntu developers package and release.

Plasma 5.19 has 3 more scheduled bugfix releases in the coming months, so by testing you can help to improve the experience for Kubuntu users and the KDE community as a whole.

Thanks! Please stop by the Kubuntu-devel IRC channel or Telegram group if you need clarification of any of the steps to follow.
Note: Plasma 5.19 has not currently been packaged for our backports PPA, as the release requires Qt >= 5.14, while Kubuntu 20.04 LTS has Qt 5.12 LTS. Our backports policy for KDE packages to LTS releases is to provide them where they are buildable with the native available stack on each release.
[1] – irc://irc.freenode.net/kubuntu-devel
[2] – https://t.me/kubuntu_support
[3] – https://lists.ubuntu.com/mailman/listinfo/kubuntu-devel