As explained in our call for testing post,  we missed by a whisker getting updated PIM 16.12.3 (kontact, kmail, akregator, kgpg etc..) into Zesty for release day, and we believe it is important that our users have access to this significant update.
Therefore packages for PIM 16.12.3 release are now available in the Kubuntu backports PPAs.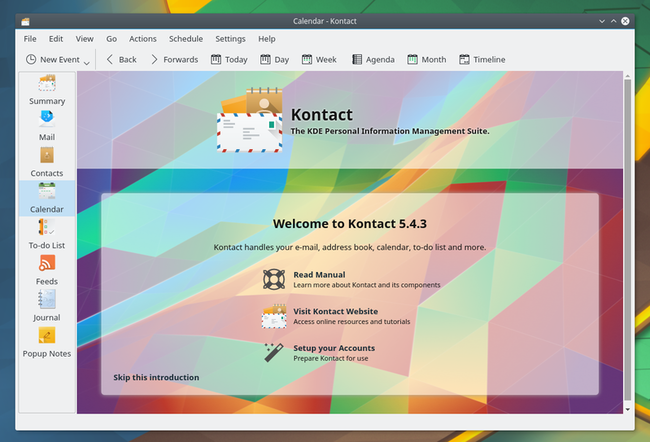 While we believe these packages should be relatively issue-free, please bear in mind that they have not been tested as comprehensively as those in the main ubuntu archive.
Should any issues occur,  please provide feedback on our mailing list [1], IRC [2], file a bug against our PPA packages [3], or optionally via social media.
Reading about how to use PPA purge is also advisable.
How to install KDE PIM 16.12.3 packages for Zesty:
To better serve the varied needs of our users, these updates have been provided in 2 separate PPAs.
Which of the two you add to your system depends on your preference for receiving further updates of other backported releases of KDE software.
User case 1 –  A user who wants to update to PIM 16.12.3, who is happy to add the main backports ppa, and is happy to receive further updates/backports of other applications (plasma, KDE applications, frameworks, digikam, krita etc..) through this backports PPA.
In a console run:
sudo add-apt-repository ppa:kubuntu-ppa/backports
User case 2 – A user who generally wants to use the default Zesty archive packages, but is missing the update to PIM 16.12.3 and would like to add just this.
In a console run:
sudo add-apt-repository ppa:kubuntu-ppa/backports-pim
In both cases, users should run after adding the PPA:
sudo apt-get update
sudo apt-get dist-upgrade
to complete the upgrade.
Notes: It is expected that on most systems the upgrade will ask to remove a few old libraries and obsolete packages. This is normal and required to make way for new versions, and cases where old packages have been split into several new ones in the new KDE PIM release.
Other upgrade methods (Discover/Muon etc) could be used after adding the PPA, but to ensure packages are upgraded and replaced as intended, upgrading via the command line with the above command is the preferred option.

We hope you enjoy the update.
Kubuntu Team.
1. Kubuntu-devel mailing list: https://lists.ubuntu.com/mailman/listinfo/kubuntu-devel
2. Kubuntu IRC channels: #kubuntu & #kubuntu-devel on irc.freenode.net
3. Kubuntu ppa bugs: https://bugs.launchpad.net/kubuntu-ppa